Please turn your device to landscape mode
Bursaries for Law Studies 2017
As part of its policy to promote the education of candidates to gain entry to the legal profession, the Law Society of Namibia, with the assistance of the Legal Practitioners Fidelity Fund and the Namibian Legal Practitioners' Trust, annually provides bursaries to law students or prospective law students.

Find out more about the 2017 bursaries here.
CALL FOR EXPRESSION OF INTEREST
To catch up with the rapid pace of change in the Namibian and global legal landscape and to enhance the legal profession's ability to meet the needs of those it already serves / underserves / does not serve at all, the LSN has recently started a project that aims to make recommendations to the Namibian Government and the LSN members, for changes to the profession's governing instruments, i.e. the Act, the Rules and the Policies. Similarly, changes are proposed for the LSN's operational arm.

Find out more about the project here.
The Law Society of Namibia Council 2016 to present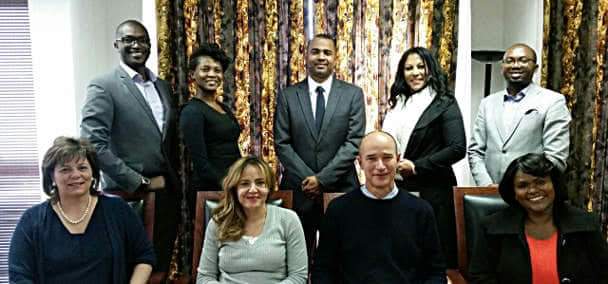 From Left to Right
Front: Retha Steinmann (Director), Ingrid Husselmann, Wouter Rossouw (President), Anne-Doris Hans-Kaumbi.
Back: Smart Elago, Saima Nambinga, Ramon Maasdorp (Vice President), Gaenor Michaels, Melki Uupindi
Vacancy: Financial Manager
Reporting to the Director, as well as the Council of the LSN, the Financial Manager is responsible, inter alia, for the bookkeeping and financial management of the LSN; payroll; preparation of monthly financial statements; preparation and management of the annual budget; preparation and management of projected cash flow statements; ensuring good corporate governance; managing the operational financial objectives of the LSN; developing strategies and long-term goals; liaising with the auditors regarding the yearly audit; developing external relationships with the banks, Receiver of Inland Revenue and other statutory organisations; responsible for the issuing of membership accounts and the collection of fees owed to the LSN; and ensuring statutory and policy compliance.


Find out more about the 'Financial Manager' vacancy here.
INDEPENDENCE DAY - 21 MARCH 2016
| | | |
| --- | --- | --- |
| | | The Law Society of Namibia, on behalf of the legal profession, congratulates the President, His Excellency Dr Hage Geingob, as well as the Government and the People of the Republic of Namibia on achieving 26 years of Peace, Stability and Progress. Read more here. |
Vacancy - Senior Legal Officer
This position supports the Director and Manager Professional Affairs in achieving, inter alia, the primary management of internal and external relationships in various segments, such as continuing professional development, management of committees and facilitation of complaints against legal practitioners; corporate governance; supporting the strategic and operational objectives of the LSN; and ensuring statutory and policy compliance.

Find out more about the vacancy here.
JP Karuaihe Trust Fund Excellence Award Winners
The 9th annual JP Karuaihe Trust Fund Excellence Award winners have been announced. They are Nicole Duminy (Best LLB Final Year Student 2014), Sune de Klerk (Best JTC Student 2014), the Legal Assistance Centre and the UNAM Legal Aid Clinic.

Find out more about the Trust and the Awards here
Bursaries for Law Studies 2016
| | |
| --- | --- |
| | During 2016, bursaries will be available to students to pursue their studies at a suitable institution for a law degree recognised in Namibia. The minimum requirements may be found here... |
Board of Control of the Legal Practitioners' Fidelity Fund
The Council of the Law Society of Namibia re-appointed Mr Habo Gerdes, Ms Hilke Ahrens and Mr Ramon Maasdorp to serve on the Board of Control of the Legal Practitioners' Fidelity Fund.

For more details see here
Law Society bursary recipients for 2015
| | |
| --- | --- |
| | As part of its policy to promote the education of candidates to gain entry to the legal profession, the Law Society with the assistance of the Legal Practitioners Fidelity Fund and the Namibian Legal Practitioners' Trust awarded nine bursaries for 2014. See the recipients, here... |
Election of International Bar Association Officers
At the International Bar Association (IBA) Annual Conference in Tokyo held during October 2014, the IBA Council met and elected new office bearers.

Mrs Deidre Sauls (Past President and Councillor of the Law Society of Namibia) was elected as one of the Bar Issues Commission (BIC) Officers. In addition to her general duties as BIC Officer, she will also be responsible for communications in Africa and Europe.

For more details on the IBA elections see here
International Institute of Law Association Chief Executives
At the IILACE annual meeting held in Cape Town during November new Executive Committee was elected.

Mrs Retha Steinmann (Past and Present Director of the Law Society of Namibia) was elected as Secretary / Treasurer of the IILACE Executive Committee for a two-year term.

For more details on the IILACE annual meeting see here